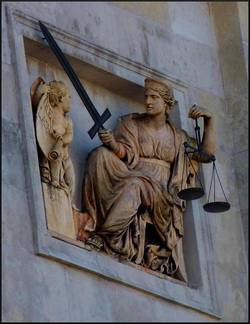 What motivates your law firm? What feelings or passions drive people to represent the injured? It's a tough question to answer.
I think the insurance industry would have you think it's all about money. Some of our brother and sister counsels' blatant commercials don't always help that view, but that's another post for another time. I can attest that it's not all altruism on the plaintiffs' side, but I don't think most of us look at this calling as a strictly business transaction, either.
I read a tremendous article in
The New Yorker
last weekend by Jennifer Gonnerman entitled "Before the Law" that shed some light on this topic (for me) about why many plaintiff's attorneys do what they do. Please do read the article, which you can find
here
. To summarize, the article recounts the history of Kalief Browder, a young man (and adolescent at the time) from the Bronx who spent "more than a thousand days confined on Rikers Island" without a criminal trial. Without regard to the (apparently) flimsy details of Mr. Browder's alleged criminal activity, Ms. Gonnerman highlights multiple governmental systems at which to point our accusatory fingers, including an ever-delaying prosecution and indifferent judiciary. You don't have to be a lawyer to know that the 8th Amendment's "right to a speedy and public trial" is dead letter if you can be held three years without a trial.
But let's get back to the point of this blog post. One cannot read Mr. Browder's account without asking, "who's going to do something about this?" I know I did. In this case, it's Attorney Paul V. Prestia from Brooklyn. He's helping bring a case against the city, NYPD, the Bronx District Attorney, and the other institutions that had a hand in this clear injustice. Even if Attorney Prestia breaks records for damages with this case, nothing will bring back Mr. Browder's junior and senior years of high school, his prom, his lost adolescence, etc. Nor will all the money in the world erase the months of solitary confinement and dreadful prison conditions he endured. But money, unfortunately, is the only justice there is to be had.
To sum up my point, I think the reason most plaintiffs' counsel do this job has next-to-nothing to do with dollar signs. It's about justice; about helping people replace what they've lost by the wrongful actions of another. Some days it doesn't feel like that, but many days it does. No one can replace their lost health, their lost career opportunities, or (god forbid) their lost family member. We can help them get justice--and hopefully some solace--for that loss.