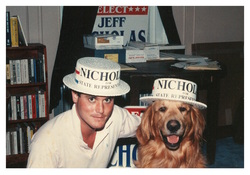 The following post was contributed by Jeffrey C. Nicholas as a reflection on his 25 years of legal practice:

I opened the Nicholas Law Firm in October of 1989. I was 28 year old. Initially, the office was a cramped one room space in a building on Mason Street here in Torrington; Suite Sixteen at 30 Mason Street next to Attorney Tom Hogan's office, to be specific. At first it was just a family business. My sister Judy worked as a part time secretary and my mother Edna was my part time bookkeeper. I signed up to do whatever State-appointed wok was available: I was a public defender for juvenile clients, a Receiver for corporations in receivership, and I argued contempt motions for indigent clients facing incarceration. The previous fall, I was the Democratic Candidate for State Representative against the popular Joe Ruwet in a Presidential election year. While I came up short, we did run a positive issue oriented campaign that excited voters. As I built on that success, clients slowly began to come through the doors. Thankfully, Judges Pickett Jr., Dranginis, and Gill were very generous in appointing me to different cases, and the judges' secretary, Barbara Bongiolatti, was instrumental in keeping my younger self busy. Those first few months were scary to say the least.

Later, I inherited Louis Erteschik's law practice when he accepted a position with Hawaii Democratic State Senate Majority Leader Tony Chang in 1990. Lou's practice was unorthodox. He accepted and handled cases for the underprivileged, often on barter terms. No other attorney would help Lou's clients as they had very little money for retainers, and their smaller legal disputes were unlikely to yield profitable work. I was happy to have them. I did a great deal of pro bono work in the early years, and the folks I worked for appreciated the help. They could typically scrape enough money together to pay me so I could keep the lights on in my office. I even made my own letterhead and pleading paper. On the upbeat side, word spread as I achieved positive results. I received more calls from folks with the familiar rejoinder, "My friend said you could help me." These people really appreciated that someone would listen to them and give them the time of day. For me it was easy. I was brought up to treat people with dignity and respect; because I did, they sent their friends. These friends were in accidents and had work injuries and in those cases they didn't need money for retainers. Those cases I could handle on a contingent fee basis.

The firm experienced rapid growth in the early 1990s. We expanded into more office space at the Mason Street location. We hired associate attorneys, paralegals, and secretaries. We went on cable television in 1994 and were a fixture there until we went off the air in 2002. Our motto was "Let Us Get The Grey Hair," a phrase I later trademarked. I still had dark brown hair in the last commercial we ran. If you have seen me lately then you know my hair is now nearly pure white. We litigated cases in almost all of the Connecticut courts and commissions. The practice evolved to concentrate predominantly on personal injury, workers' compensation (called "workmen's compensation then!) and social security disability. We continued to do a general practice as well. In 1995 we purchased the building at 373 Prospect Street in Torrington. This allowed us to continue our growth and to add new staff and equipment. We focused on state-of-the-art technology, old-fashioned work ethic, customer service, and attention to detail.

We developed a very talented and professional staff. Attorney Christine Engel, who was with us from 1997-2008, was appointed to be Workers' Compensation Commissioner by Governor Jodi Rell. Attorney Mark T. Johnson, a partner for a time, has experienced success as the manager of the State Public Defender's Office in Danbury. Gregory S. Jones was with the firm from 1991-1997, after which he split off fwith the Bankruptcy and Real Estate Division and we continue to work with him in these areas. Former U.S. Congressman James H. Maloney was Of Counsel for time.

The Nicholas Law Firm has always had a social conscience and we have been committed to public and community service as a core principle. We strive to employ environmentally sound practices. In 1990, I was appointed a Hearing Representative for the City of Torrington by Republican Mayor Dee Dunne. I also served on the Western Connecticut Area Agency on Aging Board of Directors from 1990-1992, also by appointment of Mayor Dunne. I was elected to the Board of Selectman in Bethlehem in 1997. I donated the salary back to the town for that term. After a successful two years in that position, I was elected First Selectman in 1999 and served until my term expired in 2001. Our town received a great deal of accolades, awards and recognition for the four years in the Selectman's office. Unfortunately, being involved in public service on a full time basis was not conducive to practicing law, and it also took too much time from a growing family.

In 2002, after much soul searching I decided to scale back on the politics and serve in a less-arduous capacity, recommitting to the practice of law. I continue to serve on the Board of Finance and several Commissions in Bethlehem. I also continue to be committed to the Red Cross through frequent blood donations; I hope to reach the 8 gallon donation level myself later this year.

We opened an office in Waterbury in 1999, purchasing the historic H.H. Peck Carriage House in 2000. This structure was built in 1898 and is on the National Register of Historic Places. We improved and renovated the structure, and we have landscaped the grounds over the years. It has been featured in the media on numerous occasions and we have routinely received Beautification Awards and Broom Clean Certificates from the City of Waterbury. We also adopted and maintain the Exchange Property adjacent to the office. This office is 15 feet from the Workers Compensation 5th District Office—a mere stone's throw away. This allows us to be accessible for hearings on a moment's notice from the Commission. We usually have at least four daily hearings there. We have had great success representing clients before the Workers' Compensation Commission. I have personally tried Formal Hearings to conclusion before many of the Commissioners, both past and present. I have also taken successful appeals to the Commission Review Board as well, as have the other attorneys in the Nicholas Law Firm.

In 2008, after Christine Engel's departure, Attorney John B. Myer joined the firm. He is in the Litigation Department and predominantly works in personal injury and workers' compensation claims. He handles general practice issues as well. John is the former Fire Chief in Bethlehem and recently moved to Woodbury. Following Christine's departure, I assumed the handling of all the Social Security Disability claims for a couple of years. I had worked as a Claims Representative with the Social Security Administration in between college and law school, and I had gained valuable insight on the claims process. As of today, I have taken nearly 400 claims to conclusion and have a career 90.5% win rate. The firm and I have had successes at the Federal District Court level and Appeals Council level as well. In 2011, whiz kid Nathaniel D. Walden joined the firm. His technological savvy and work ethic has benefitted the firm greatly. He has assumed the role of Marketing Director and was made Director of the Social Security Division at NLF in late 2013. Nat is a Hoosier transplant who attended Butler University and the Indiana University Law School in Bloomington. Nat is also well-known and well-received at the Workers' Compensation Commissions throughout the State of Connecticut.

While many things have changed many have remained the same. My mom, now 88, continues to work part-time as the bookkeeper. We have added another assistant Bookkeeper, Theresa Truax, who I went to High School with at Wamogo. We continue to have very professional experienced staff with very little turnover at NLF. Paulina Losey is in her third decade here, having joined in 1997. Our receptionist, Dana Madden, is entering her 16th year with the firm. Social Security paralegal Cindy Viarengo is approaching 10 years at the law office. My wife, Yuliya, graduated magna cum laude and has joined the firm as a paralegal on a part-time basis a few years ago. Sao Milo has nearly 30 years of experience as a paralegal and has been in our Waterbury office for 5 years. Andrea Vetter is the latest addition to the firm with 3 years of service.

As a father of eight, I expect I will need to be here working for a very long time. I still love helping people. It really doesn't feel like work when I go into the office because I enjoy what I do. I continue to treat everyone with the dignity and respect they deserve no matter what their station in life is. I have not forgotten where I came from. I remember when a good friend of mine left the practice of law and I asked him why he had retired so young. "My give a shit monitor is broken," he replied. "I just don't care anymore." Twenty five years after we opened the Nicholas Law Firm I can say my meter is firing on all cylinders: I have the same fierce tenacity, grit and determination I had as a 27 year old neophyte lawyer, but now with 28 years of legal experience to back it up. We continue to be an experienced full service law firm that offers affordable, aggressive legal services and old-fashioned personalized commitment. If you are injured or disabled, "Let Us Get the Grey Hair." I very much appreciate the faith you have placed in me and the firm, the return business, and the kind referrals of friends and loved ones. To the next 25 years!