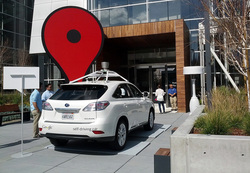 If you couldn't tell by some of my previous posts, I tend to be a bit of a futurist. One of the things I'm particularly excited for is the
self-driving car
, a reality that seems to be
inching closer every day
. Check out Google's video of their car
here
. Over the weekend, I got to thinking about how the development of these vehicles might impact our industry. The writing is on the wall, and it doesn't appear to be in our favor in the long run.
For background, personal injuries come in all shapes and sizes, from slip-and-falls to dog bites to
car crashes
. I don't have hard stats to back up my argument, but I'd bet the house that motor vehicle collisions account for a significant share of many law firms' revenues, doubly so for personal injury firms. In short, losing motor vehicle injury cases would be bad for lawyers and the legal industry. I'm obviously not the first person to prognosticate on this scenario and you can find other good takes
here
,
here
,
here
,
here
, and
here
. Most of these posts feature the obvious—albeit necessary—questions: How
accurate/good
will the self-driving car be? Will it make mistakes? How do you question the "driver" if there's an accident? How much human control will be involved? How can we legislate this?
Here are my thoughts:
First, there will initially be a veritable bonanza of personal injury claims related to self-driving cars. In the beginning, human-driven cars will intermingle with the machine-driven vehicles and it will not be pretty. Humans are unpredictable and—at least in Connecticut—the experience of driving requires much more than just binary sensory detection: it takes instinct. You give more room to the rusty Cabriolet without brake lights that's spewing black smoke. You don't drive on New Year's Eve or in Vegas if you can avoid it. Ever see a Roombah battle a dog? Yea, there are collisions galore. Not to say that these collisions will necessarily be the fault of the machine-driven cars, and these other factors are
something the creators seem aware of
. However, an injured flesh-and-blood human is going to garner a lot more sympathy from a
human
jury than a cold, novel, lifeless machine ever will. We'd all better brush up on our code, just in case.
Second, suing for injuries when a machine-driven car is involved will be a lot more painful. Initially, you'll be suing owner of the self-driving car just like you would today. However, the crashes caused by self-driving cars are really more like products liability cases, which means you'll end up suing the software company (i.e., Google) or the manufacturer (i.e., Toyota). With deep pockets, an army of corporate lawyers, and zero incentive to admit that their products are defective in any way, it has all the makings of a legal bloodbath. You'd better just hope your search history doesn't get leaked!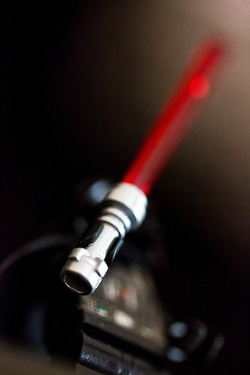 Third, this landscape will change with time. The 1000-megapixel-camera equipped machine-driven vehicles will have overwhelming proof of competence to push the worst drivers off the road. The machine-driven vehicles' convenience and utility is undeniable. They have Google, Apple, and the car companies in their corner. Eventually, we'll get to the place where machine-driven cars are the norm and not the exception. That day, my friends, is when the personal injury bar will really be in trouble.

However, don't start tap-dancing on our graves just yet. Personal injury lawyers will adapt just as they always have. People will continue acting negligently/recklessly, probably even more so given all the idle time they'll have whilst not driving. Personally, I plan to specialize in light saber and hover-board injuries. So, see us in 2065 and let us get the genetically-selected-prior-to-birth-to-be-ruggedly-handsome-and-yet-refined-Grey-Hair (trademark pending).