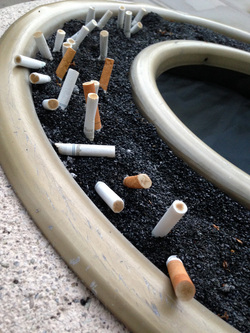 Here it is. One trend I've noticed over the past several months and what seems to be the new Respondents bar's—that's the workers' compensation insurance company's attorneys—argument
de jour
has to do with back injuries and smoking. These attorneys have latched on to a few studies that have suggested
smoking can have some negative effects for spinal surgical candidates
(see also
this one
).
Many doctors will recommend that a patient cease smoking before a spinal fusion surgery can take place, often at the prompting of these attorneys. For some doctors, it seems like a personal crusade. This, to me, is not shocking. Doctors are healthcare workers. There are undeniable links between smoking and adverse health consequences. As a practicing social security disability attorney, I read voluminous medical records every day. Believe me when I say it: doctors will recommend that you quit smoking as it relates to every conceivable physical (or mental) condition out there.
However, in my opinion, it's just another way to slow a case down or delay an inevitable surgery, all to the detriment of the injured worker. The science is far from clear as many medical studies (see some
here
and
here
and
here
) suggest that the link between smoking and poor surgical outcomes is not nearly as direct as the insurance companies' representatives like to argue. Likewise,
smoking demographics
(
here
, too) indicate this may have a discriminatory aspect against certain socio-economic groups as well. Smoking cessation has its own set of
side effects
that can make an already painful situation worse. Look, no one thinks that smoking will
help
you in any way. You
should
probably quit if you are a smoker. Most likely, your doctor will not go to bat for your smoking, either. However, I also hate to see an otherwise healthy person miss work (and life) and suffer because he/she cannot get a necessary surgery due to smoking.
Bottom line: being a smoker can make your workers' compensation claim more difficult. If you needed another reason to quit, here it is.