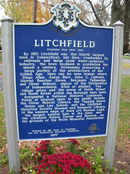 It's been a punch line for the local bar for some time, but it looks like some positive steps are finally taking place towards building a
new Litchfield County courthouse
in downtown Torrington.
Governor Malloy announced
that the $81.4 million needed to build the stunning facility
is expected to be approved
by the State Bond Commission this week.
Groundbreaking of the site
is scheduled for July, while completion is currently expected in the summer of 2016.
As a Torrington citizen and practicing attorney in Litchfield County, this is a truly welcome development. The current, scattered set up in the county is less than ideal. State Representative Willis nailed it when
she said
that "Litchfield [courthouse] is beautiful, but it doesn't meet the needs of the judicial system." It doesn't hurt that the Nicholas Law Firm is a short walk away and that the influx of professionals in downtown Torrington should encourage some new dining options.
One editorial
raised several valid points about the city's need to run with this new announcement and also plan to improve traffic flow and business ventures around the proposed site. Having lived next door to the current site for a year-and-a-half, I can personally testify that a revamped (and more expedient) thoroughfare would be a welcomed sight, too.
Either way, I'm happy this project is finally getting some traction.