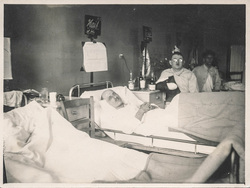 I had a chance to read a Wired article colorfully titled
How China is Screwing Over
Its Poisoned Factory Workers
over the weekend, and couldn't help drawing some interesting links to our own workers' compensation system.
The gist of the article recounts how multiple, often prominent Chinese manufacturers are
unsurprisingly
less than compliant with the rules and regulations propagated by both their
government
and their multinational partners (read Apple/Samsung), and that their workers are suffering terrible consequences. We're talking serious neurological disorders, leukemia, brain damage—really, really horrible stuff.
Realistically and thankfully, I rarely see these type of grievous injuries and blatant departures from safety standards here in Connecticut. I would say the
mesothelioma
cases that are, fortunately, becoming less frequent are the closest parallel.
Reading through some of the employers' claim denial tactics, however, felt shockingly familiar. There's references to the factor workers "getting red-taped to death." There are stories about companies starving their injured workers into cheap settlements: withholding benefits to the point where the injured will take just about anything in order to survive the next week. And that stuff, my friends, does continue to happen even here in Connecticut with shocking regularity.
Most of it is legal, too. An insurance company can, to the painful detriment of the injured worker, be unreasonably pedantic and demand that every "i" be dotted and every "t" be crossed even when it's plain that the injury is work related. If someone falls off a roof and then has half an ankle dangling by a thread, that person shouldn't need an orthopedist (and two or three if it's challenged!) to say that the injury is work related before payments start. Some things are just common sense. Alas, this is the world we live in.
If you or one of your loved ones are getting red-taped to death, give us a call. We've got a nice pair of scissors.