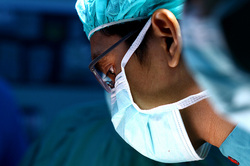 Let me preface this post by saying that I like doctors. 99% of them are awesome people who are great to work with. Indeed, our practice is predicated upon doctor cooperation and hard work. However, there's one theme that I've found to be all too common with medical reports that can have a material impact on the outcome of your social security, workers' compensation, or personal injury case: the full-body "exam."
The scenario goes something like this: Client X goes to Dr. Y for treatment for a foot injury every month. Dr. Y does his thing, and Client X gets better or doesn't. In the medical reports for every date of service, Dr. Y states that he/she not only examined Client X's foot, but also Client X's back, shoulder, neck, etc. And guess what? The results (other than for the foot) were within normal limits. So, what's the problem?
The problem, as I stated before, is that the exam is a lie. In many cases, the doctor reports that he/she looked at multiple bodily systems and/or performed tests that they simply did not do. Now, this generally does not matter in the
treatment
of the patient because the doctor is going to check the injured area they are specifically treating, relaying any necessary information. The real issue is with the other body parts that the doctor is unconcerned with and has falsely stated have no issues.
Back to our scenario. Client X not only has foot issues, but also debilitating back and neck problems that have required major surgeries. Whether this is related to a car accident, a work-related injury, or a social security disability claim, the status of Client X's back and neck are at issue. However, when the other party/Administrative Law Judge look at Doctor Y's records, they see that he/she did a full exam and found that Client X had no back or neck complaints and that the exam was normal. Now, Client X has to come up with some explanation as to why Doctor Y, a trained medical professional, is saying that there is no issue with Client X's neck or back when there truly is.
Putting aside the ethical breach, Doctor Y's actions have now materially damaged Client X's claim. I asked a good friend (and doctor) why this happens on the medical end. The answer? Essentially, it's an unfortunate product of the system. Most medical institutions (read Hospitals) require or encourage full body exams to be performed on each visit, but the doctors—already overworked—don't have the time. So, they either fake the results or copy-and-paste the results from a previous exam.
So, as a claimant, how can you alleviate this problem? There is no silver bullet solution, but I've found the following actions helpful:
Let your doctor know you have an ongoing claim for your other body parts.

Periodically exam your medical reports. If you notice this trend, alert your doctor.

Make sure you are actively treating (if possible) for those other injured body parts. This helps create positive findings from other doctors for the other injured areas.

By drawing attention to this problem, hopefully we can all make this is a medical practice short-lived.