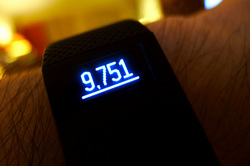 Last Thursday, like many Connecticuters, I was completing a run in the oppressive summer humidity. Once finished, I,
like an ever increasing amount of people
, I looked down at my Fitbit Charge HR to see how it had gone.
That's when the idea struck me: wearable technology could be a
great
tool in our practice. Just imagine the anecdotal power of showing a graph of what an injured person's activity levels were like before and after a car accident. When my social security client says "I can't walk more than 100 steps at a time," I have the data to back that up!
We've seen this before. Now that everyone is constantly carrying around a camera (via phone), we get loads of helpful pictures of accident scenes, injuries, and documents that just weren't available before said proliferation. It makes my life a lot easier.
Like all my ideas, greater minds (or just professional legal writers—you decide!) had already done some soul searching on this topic. One
story
told me how
Fitbit data had already been used to support a personal injury claim
. Another showed how
Fitbit data was used to disprove a criminal allegation
. Pretty cool stuff!
At this point, I think any attorney who isn't asking clients about their potential data footprint and preparing them for questions along these lines could be performing a disservice. Whether your data works for or against your potential claim, it's always better to know something and prepare for it than to be blindsided.
And if this just seems too futuristic for your tastes, I'm already
bracing for the "hackers crashed my car, not me" defense
.