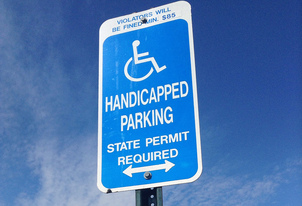 "Disabled." I doubt 10 strangers locked in a room together could come out with one clear, coherent definition. Add to this ambiguity the fact that "disabled" is a very emotionally charged word, both for the subject and object of the label.
Being "disabled" in our practice frequently means different things depending on the type of work involved. In the Connecticut workers' compensation context and being "disabled" in the Social Security context are not the same. No surprise here: when you're dealing with law, definitions matter.
First, workers' compensation. To make matters complicated right off the bat, there are multiple
types
of disability within the Connecticut workers' compensation system.
First, there's "Temporary Total Disability," commonly called TT. TT benefits are applicable when a work related injury " . . . results in total incapacity to work." See Sec. 31-307 of the Act.
Second, one can also have "Temporary Partial Disability," commonly called TP. TP benefits apply when an individual has the capacity to perform some type of work, but not to the same degree or amount as before the work-related injury. See Sec. 31-308(a) of the Act.
Third, there's "Permanent Partial Disability," or PPD, which essentially compensates injured workers for the permanent loss in functioning that a work-related injury has caused. One could still be fully capable of doing one's previous job and still sustain a sizable PPD.
Fourth, Connecticut workers' compensation law recognizes that a person can be permanently totally disabled. While a specific definition exceeds the scope of this post, this is the closest in mindset to a Social Security-type of definition. Basically, when a worker is permanently totally disabled, the Commission recognizes that they have no useful work capacity.
Alluding to my earlier point, "disability" doesn't even have standard definition within one administrative system.
Second, to Social Security. In Social Security, the definition of "disability" (surprise) varies in some cases, like childhood onset. However, for nearly all adults the primary inquiry goes through a "
five step sequential evaluation
." Keep in mind that each of these steps has tremendous gray areas that this post will conveniently ignore.
Step one asks if the applicant is working and, if so, are he/she is making too much to qualify.
Step two asks if the applicant's impairments are serious enough or have lasted long enough (or could be expected to).
Step three asks if the applicant meets a listing. The listings give more specific definitions of certain disorders, the severity of which can entail a per se disability findings, although in practice the listings leave plenty of latitude for the decision maker. Step three, for that reason, can be a "shortcut" of sorts.
If the applicant doesn't meet a listing, the analysis continues to step four, which (a) defines what an individual's residual functional capacity is (what the applicant can and cannot be expected to do, both physically and mentally), and asks if the applicant can do his/her past relevant work (generally, any work done in the past 15 years).
If he/she is unable to do the past work, the process finishes at step five, which asks if the applicant can do any other work on a substantially gainful level.
If I were to summarize the process in my own industry-tainted voice, Social Security is asking whether you have physical or mental (or a combination of) disabilities that are long-lasting in nature and can be expected to prevent you from finding or maintaining legitimate money-earning employment on long-lasting basis. This is less stern than total paraplegia and more harsh than a bothersome and inconveniencing ailment; it's a holistic approach aimed at evaluating whether a person can
work
or not.
If you somehow got through the last two paragraphs without falling asleep, you now know that the word "disabled" doesn't say much on its own; it's the facts that matter.