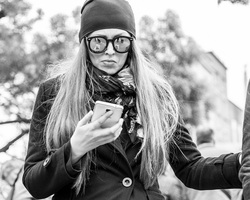 There's a well-documented link between distracted driving and increased motor vehicle crashes: according to distraction.gov, the "Official US Government Website for Distracted Driving,"
3,154 Americans perished in 2013 as a cause, with another 424,000 injured
. Even worse, its estimated that "[a]t any given daylight moment across America, approximately 660,000 drivers are using cell phones or manipulating electric devices while driving . . ." In reaction to this, distracted driving has become a big target in the personal injury bar—just Google "distracted driving personal injury" and stare in awe—for good reason. We already routinely ask motor vehicle collision victims if the other party was using a phone or other device. Many attorneys subpoena phone records, too.
Well, a
new study
shows distraction injuries caused by electronic devices aren't just limited to your car: they are
on the rise for pedestrians
(walkers), too! This probably isn't surprising to any city-dwellers or university-attendees were these things are most common. There were actually a couple students killed (one by bus, one by car) while I was in law school that were linked to distracted walking.
What's worse is that these injuries are more likely to be
serious
, and that makes sense. In a car crash, you have multiple safety mechanisms to minimize damage, but when you walk into a wall/trip over a bench/get nailed by a car, it's just your body versus the concrete. The problem is so bad the American Academy of Orthopedic Surgeons even has a
"digital deadwalker" campaign
(and a sweet
Youtube video
) to warn the public about these kind of dangers.
So, how does this play-out in the personal injury context, you ask? Hey, thanks for the question! First, distracted walking by the injured individual is obviously unhelpful for a claim. While it's not necessarily fatal, I can't see potential jurors having a ton of sympathy for the person too busy playing Candy Crush to watch out for that sidewalk deformity. Second, numbers and awareness like this could end up changing building codes or store design. Take, for instance, a woman who
sued Apple after face-planting into a glass wall
. In that case, Apple was already (allegedly) putting markings on the glass to draw people's attention, but more might be necessary to save the public from themselves (ala seatbelt laws). Third, distracted walking on the part of the injurer will have to be pursued more energetically by a good plaintiffs' lawyer. If my client gets plowed-into-and-injured by someone Joe-Schmoe trying to Periscope his walk home, you best believe that's a fact I'm going to use to my advantage. There are probably tons more implications, but three points is a nice, tidy number so I'll stop there.
Moral of the story: be careful out there, folks, it's a distracted world we're livin' in. Take it away, Sir Paul.
02/22/2016 POSTSCRIPT: the Wall Street Journal published a story in February 2016 detailing the problems of distracted walking as well. You can check that out
here
.