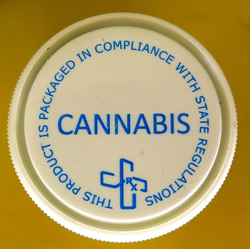 Medical Marijuana
and the Connecticut Workers' Compensation Commission
Ever since Connecticut
passed legislation
allowing for the use of medical marijuana for
qualifying patients
, those of us in the workers' compensation bar knew it was not a matter of "when" not "if" the issue would come up in the Commission.
Less than two weeks ago, the initial policy appears to have been set: medical marijuana can be a compensable treatment for certain conditions. Though not quite yet available on the
WCC's website
, the Compensation Review Board decided on May 12, 2016 in favor of the claimant in the case of
Petrini v. Marcus Dairy, Inc
.
In short, the case revolved around a claimant that continued to suffer debilitating back pain following a surgery. The claimant appears to have gone through the proper medical protocols to obtain medical marijuana, and by his own testimony received great benefit from its use, especially when compared to the side effects from his prescribed narcotics. In July 2015, Commissioner Cohen found it Mr. Petrini's favor, confirming that his medical marijuana reasonable and necessary (amongst other things). This employer's insurance company appealed, but the CRB confirmed Commissioner Cohen's decision, and in so doing created a helpful blueprint for future claims on the issue.
Our firm has had direct contact with the issue. We have several clients in both the Torrington and Waterbury jurisdictions that use medical marijuana. From my non-empirical evidence, I would say it's been a positive experience if for no other reason that it has allowed people to substitute marijuana for prescription narcotics, a generally more addicting and damaging treatment for chronic pain.
I have a couple of takeaways from
Pertrini
for those interested in seeking medical marijuana on a similar basis:
1. You'll need doctor support, and not just the presciber. The claimant in this case had serious support from his pain management specialist.
2. It needs to be helpful. In this case, the claimant was not only able to titrate down on narcotics, but he experienced increased ability in his activities of daily living. It's a hard case to make
before
marijuana is started, however.
3. You'll need to be credible. I don't have a transcript of the original hearing, but it's clear that Commissioner Cohen found the claimant credible. From the few excerpts I got, he sounds like an intelligent individual. Bottom line: don't expect to roll up to your hearing looking like Shaggy from Scooby Doo.
I do expect more development on this issue over the next several years, so stay tuned.