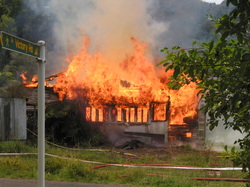 "
Beware of little expenses. A small leak will sink a great ship
." While this analogy was proposed by our thrifty forefather Benjamin Franklin regarding financial vigilance, you can-and-should apply this lesson to an application for social security disability benefits. Put another way, the little mistakes you make at the beginning paperwork can eventually sink the big ship of your claim.
First, some background. When you initially files for disability benefits, the SSA will ask you about your activities of daily living (or ADLs), your past work, and more. This, unfortunately, is a laborious questionnaire, one to which oral surgery is probably preferable. However completing these initial forms with accuracy and proper detail is vital can be vital to your claim's outcome. The subjects in these forms mostly concern what you do at home during the day, who takes care of your kids, who takes care of your animals, whether you can handle money, whether you can drive, and many more questions like this. You can find a copy of this form
here
.
So, what can you do to make these banal explanations more favorable to your claim? The simple answer is
answer them, fully and with details
.
Let me give you an
example
: one of the questions ask whether the claimant (you) can do laundry at home. Frequently, I come across surveys where in my client has said that yes, in fact the he/she can do laundry, usually denoted by a simple "yes." However, when I ask my client how he/she performs laundry with his/her physical maladies, the "whole story" is much different. In example, there are actually only a few days a month when they can actually do laundry. Truthfully, they don't do the whole task that involves laundry, but really they just turn on the machine and fold laundry once it's out, without carrying anything actually down to the washer and dryer. That, as you might guess, is a very different answer.
Here's how that lazy, quick "yes" answer can haunt you down the road, particularly at the Administrate Law Judge hearing. Basically, if an ALJ wants to make an unfavorable decision on your claim, these initial forms will provide "evidence" in support their negative finding. Using our example from above, if an individual says during her hearing that she cannot, in fact, do laundry, the ALJ will then use this prior answer on the survey to show that the claimant has not been consistent (liar!) with answering questions, thus putting the credibility of the claimant into question. Alternatively, the ALJ will use this information in a vacuum to say that the claimant clearly capable of doing laundry (she admitted it!), therefore she must be capable of doing other tasks. It's not fair, but believe me—it happens in many cases.
The same thing can occur with your records regarding past work. If you incorrectly put that you didn't lift even 10 pounds on the job, that is something that the ALJ and vocational witness are going to take seriously later on down the line, and that analysis can impact your claim.
So, what some
best practices
for filling out initial paperwork?
Make sure you fill out each question with proper detail to understand your situation. This means "yes" or "no" answers should be avoided if they don't tell the whole story.
Remember: you can't take this stuff back. Once you submit it, it's part of the record, so put some effort into your initial application documents.
Make sure you make a copy of any and all paperwork you filled out for Social Security because they will ask you to fill out a similar survey later on in the claim. This way, you can check against your previous paper work to show that you have answered consistently across the board and/or make changes where appropriate.
Consult the "the Sequential Evaluation Process for Assessing Disability" (the "Five Step" process)—see the government's slide show here—to make sure you're not accidentally proving the case against you with your own answers.
Consult your friends and family that get to observe your capacities. Many times, my clients are too proud or want to keep a positive mindset; they don't want to admit that they can no longer take care of themselves. Your husband/wife, brothers, sisters, mothers/fathers, and friends can be more objective about your true limitations.
As always, if you have more questions or are having trouble getting through the initial paperwork, consult with a law office on your best way to proceed. Good luck!