The H. H. Peck Carriage House - A Living Part of Waterbury History
The H.H. Peck Carriage House in Waterbury, Connecticut houses the Waterbury branch of the Nicholas Law Firm as well as several other professional offices. The Nicholas Law Firm purchased this gem from the American Savings Bank in 2000.
This elegant building has a rich
history dating back to 1898
. The building was originally constructed in the late 19th century to house the horses of local public servant and businessman
Henry H. Peck
. Prior to serving its current function as the home of the Nicholas Law Firm, the Carriage House served the citizens of Waterbury as a public facility and storage space.
The building was
almost destroyed
at one point and was the subject of a
federal lawsuit
to halt demolition.
---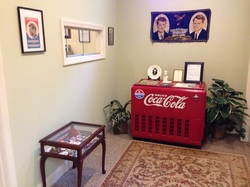 Through the diligent efforts of Attorney Jeffrey C. Nicholas, the H.H. Peck Carriage House had undergone dramatic restoration and remodeling. In 2011, Attorney Nicholas received a Beautification Award from the City of Waterbury in recognition the ongoing efforts to restore and preserve one of Waterbury's timeless architectural treasures.

The H.H. Peck Carriage House is regularly the subject of media spots, photographs in books, magazines and other publications.
---