The Nicholas Law Firm, trusted attorneys in personal injury, workers' compensation, and social security claims since 1989.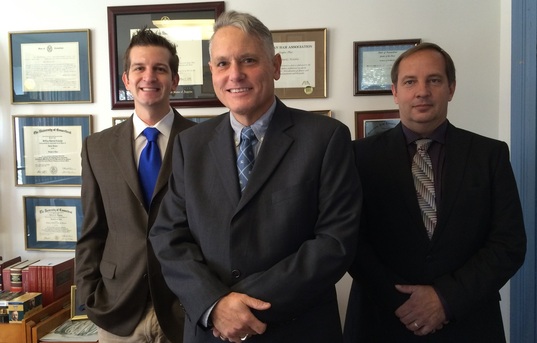 The legal team at the Nicholas Law Firm has delivered full-service representation for personal injury, workers' compensation, and Social Security Disability claims for the people of Northwest Connecticut since the firm's inception. Over that time, our office has recognized that no two cases or clients are the same, and we make every effort to tailor our representation to your specific needs.

It's an unfortunate consequence of life, but injuries happen. They happen at work. They happen at home. They happen on the road. Many times, these accidents occur due to the negligence or carelessness of others, leaving the victims with serious physical and emotional injuries that can last a lifetime. At the Nicholas Law Firm, we work every day to help make those victims whole again.

---
We provide help when you're hurt
Another takeaway from over 25 years of serving Connecticut's injured is the true cost and impact a personal injury or workers' compensation accident can have on your life. Not only can these injuries cause physical harm, they can cause immense financial and emotional strain on injury victims and their families. At the Nicholas Law Firm, we ensure our injured clients understand the various ways their claim may unfold and help them plan for all scenarios. Both personal injury and workers' compensation claims are fraught with pitfalls and hidden traps for the unwary, so The Nicholas Law Firm offers free consultations with our skilled, dedicated attorneys who will stand by your side through your difficult times.
Check out our
Personal Injury
and
Workers' Compensation
pages for more information.
We provide help when you're disabled
Like personal injury and workers' compensation claims, having a practiced hand guide you through the process can ease the angst and uncertainty that comes with social security disability claims. Applying for and winning social security is a tedious process, difficult for even the healthiest individual to perform. Our dedicated attorneys and skilled legal staff will make sure your claim gets through the system as quickly as possible.
Check out our
Social Security Disability
page for more information.
We provide assistance and services in other areas, too!
The Nicholas Law Firm can also help you achieve results in other areas of your life. Although our focus has always been on injury matters, we also provide affordable, experienced, and tailored legal representation in the following areas:
Business formation (Incorporating, LLCs, and more)
Medical malpractice
Civil litigation
Criminal defense
Intellectual property (copyrights, trademarks, trade secrets)
Debtor-creditor relations
Family law and divorce
Motor vehicle infractions, including Operating under the influence (OUI) and traffic tickets
Real estate
Long-term disability claims
Short-term disability claims
ERISA claims
Medical malpractice


Our focus is on you
Whether you've been injured by a car accident, slip and fall, dog bite, dangerous or defective product, work-related accident, are applying for social security or just have a general legal question, the Nicholas Law Firm is the place to start. We offer free consultations with our attorneys to discuss your case and all the options that are available to you. Though we primarily represent clients in Northwest Connecticut (Litchfield and New Haven counties), we do travel and work through the State of Connecticut. Call us at
860-489-1878
today!
Practicing in your community
For more than two decades, The Nicholas Law Firm has served clients in Litchfield County and New Haven County, including the cities of:

Barkhamsted
Bethlehem
Bridgewater
Bristol
Burlington
Canaan
Colebrook
Cornwall
Goshen

Kent
Litchfield
Middlebury
Morris
Naugatuck
New Hartford
New Milford
Norfolk
North Canaan

Plymouth
Roxbury
Salisbury
Sharon
Thomaston
Warren
Washington
Watertown
Winsted